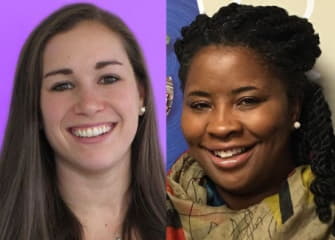 Heather Naviasky And Dawnia Rather
The Y in Central Maryland is pleased to announce the hiring of Heather Naviasky and Dawnia "Christy" Rather as regional managers. As regional managers, Naviasky and Rather will provide leadership skills, support and guidance to the Y's Out-of-School-Time and community school programs.
Before joining the Y team, Naviasky served as the program manager of community and school engagement at Family League of Baltimore, where she was responsible for a network of more than 20 community schools and 20 Out-of-School-Time programs, as well as the New Coordinator Professional Learning Community. She also led Family League's partnership with the Baltimore City Health Department in relation to school age initiatives.
Naviasky graduated from The George Washington University with a degree in political science and a focus in public policy.
Rather brings more than 20 years of experience in staff development and training, program design and coordination, and youth development to her new role at the Y. She most recently served as the manager of technical assistance for the National Summer Learning Association, where she implemented projects and initiatives focused on improving the quality of summer learning programs. She also led a team of field consultants that support the organization's strategic objective.
Rather graduated from University of Maryland with a degree in English language and literature, and from the Notre Dame of Maryland University with a degree in non-profit management. She is also a certified trainer in Youth Works Methods and Management from the David P. Weikart Center for Youth Program Quality,
Our Mission:
The Y in Central Maryland is a charitable organization dedicated to developing the full potential of every individual through programs that build healthy spirit, mind and body for all.
Our Commitment:
At the Y, we are committed to providing family-oriented, affordable, high quality programs.
A cause driven organization with three areas of vital focus:
For Youth Development: nurturing the potential of every child and teen
For Healthy Living: improving our community's health & well-being
For Social Responsibility: giving back and providing support for our neighbors

The Y is a place for everyone. People of all races, ages, faiths, gender, abilities, backgrounds and incomes are welcome and financial assistance on a sliding scale is available to those who would otherwise be unable to participate.
Our Values:
Caring, Honesty, Respect and Responsibility
More information can be found at www.ymaryland.org.